Years ago, maybe twenty or so, I planted a few ivies around an old pine tree in the side yard. They've nearly reached the top of the tree – about fifty feet!

I was looking at some of my ivy leaf drawings and wondering if they'd be good candidates for embroidered appliqué a la
Chloe's pansies and butterflies
(May 4th entries) as referenced from
CQMagOnline
. So I had to try one out this morning and I think I may have some fun with that in the near future…I hadn't thought before of interpreting my nature drawings in any kind of needlework.

Today's lunch was downright delizioso! It was
linguine with olives and sun-dried tomatoe
s
.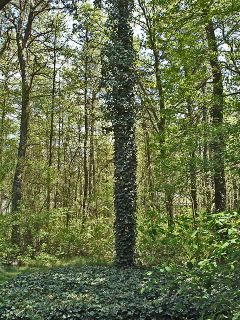 Climbing Ivy